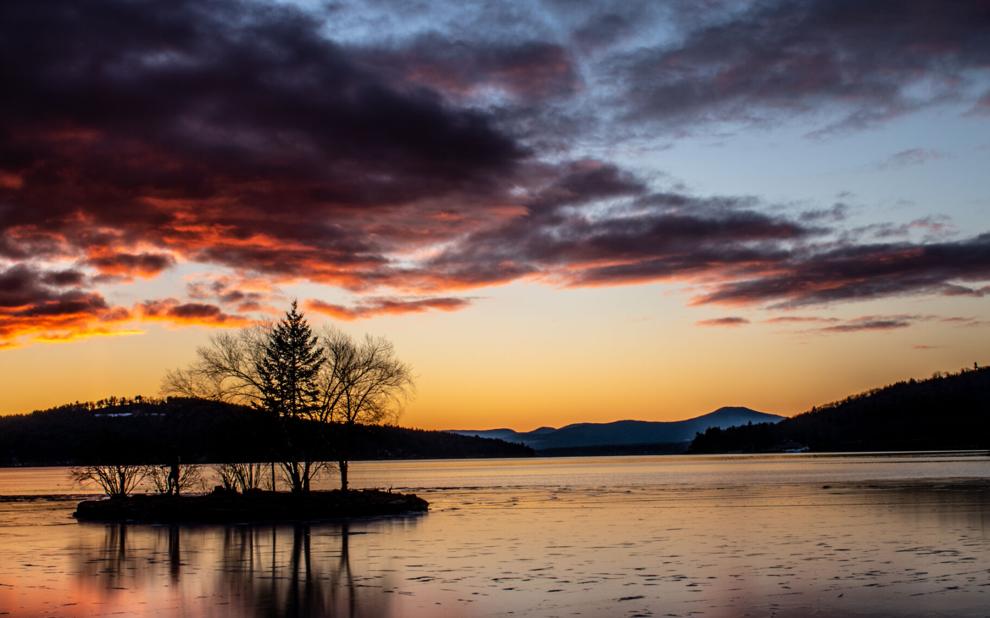 Many people often wonder how a photographer created a specific photo. What was the process of identifying the location, the time of day, camera settings, choice of lens, composition, etc. So, if you are curious, I welcome you to join me in an analysis of my photo shoot on Dec. 27, 2020.
Early morning, on Dec. 23, 2020, I was traveling to Tamworth to photograph Mt. Chocorua. My route took me through the town of Meredith, where I noticed a potential future photo opportunity looking east, over Meredith Bay, Lake Winnipesaukee. I checked the weather forecast and decided that clear conditions forecast on Dec. 27, 2020, might be ideal for a photo shoot.
My favorite time of day to photograph landscapes is early morning, just prior to, and right after, sunrise. I'm drawn to the rapidly changing colors in the sky from twilight to just after sunrise. Also, I'm a morning person and I enjoy photographing nature without crowds of people hanging around. That said, sunrise on Dec. 27, was at 7:19 a.m., so I left my house to arrive at my destination around 6:40 a.m. This would give me plenty of time to stake out my camera position, decide on which zoom lens to use and watch for the changing light in the sky. I walked around Clough Park at Meredith Bay, looking for the right vantage point and finally settled on a specific spot that allowed me to include a tiny island as an anchor point in the left side of my photograph. After considering my lens options, I chose my 18-55mm lens which allowed the optimum composition I was looking for.
Nearly 100 percent of my work is photographed using a tripod. This allows me to use long exposures and allows me to study the scene in greater detail before taking pictures.
For all you camera enthusiasts, I shoot with a Nikon D5600 digital camera and have three zoom lenses to choose from — 10-20mm, 18-55mm, and 70-300mm — depending on the scene. I set my ISO at 100, which allows for finer resolution and enlargement of photos, and I almost always shoot in "A – Aperture" mode, where I choose the aperture (lens opening) and the camera chooses the best shutter speed. Because I typically use a tripod and a manual shutter release, I'm not usually concerned with long exposures.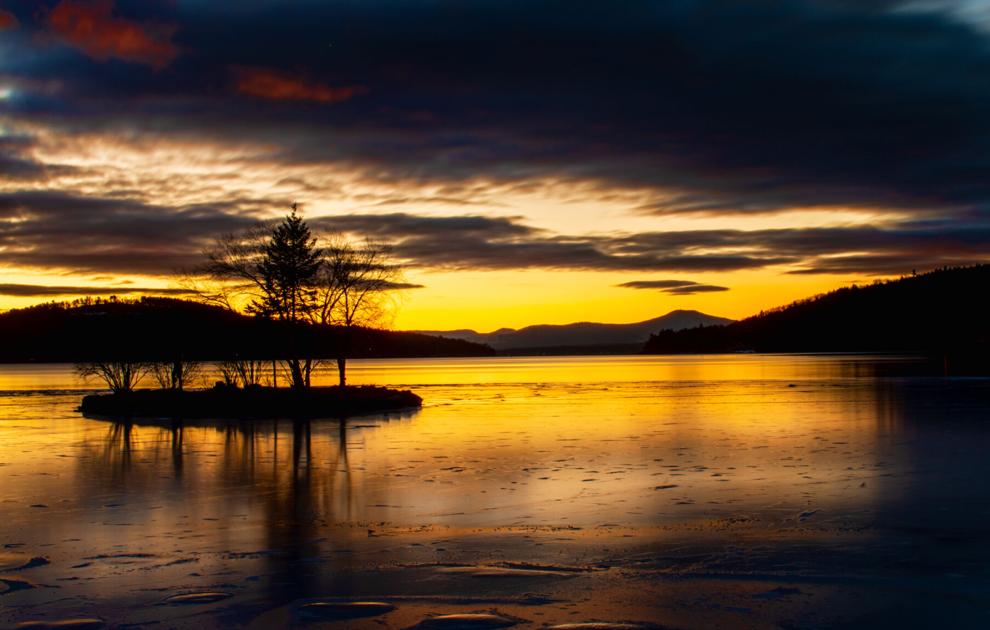 This is my first image, shot at 6:52 a.m., 27 minutes prior to sunrise. Notice the dark clouds, yellow sky, yellow reflection in the foreground ice and the silhouette of the tiny island and the mountains.
Camera settings: ISO 100, aperture f25, shutter speed 10 seconds and 32mm lens. The cover photo, showing more red color in the sky, was shot shortly after the first image, with 1/15 sec. f25 and 34mm lens.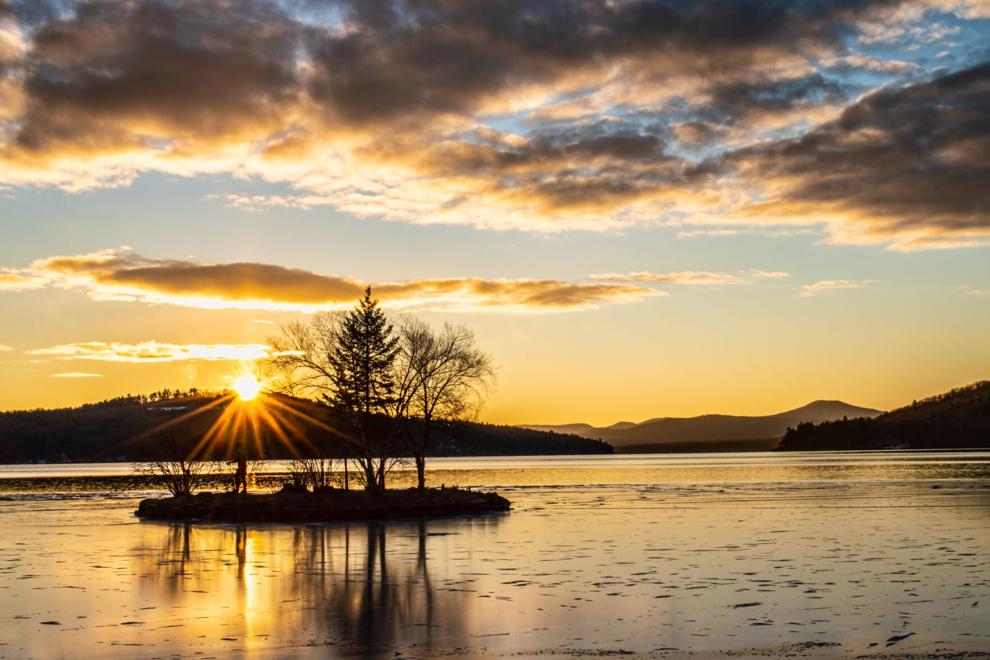 This image was shot at 7:43 a.m. and now shows the sun's rays cresting the distant hill. The overall scene is lighter yet and the colors have a pastel, softer look. I intentionally chose the composition to place the tiny island in the left side of the photo. Note how the eye is drawn immediately to the sun's rays. The placement in the lower left quadrant meets the "Rule of Thirds," a composition rule adopted by most professional photographers.
Camera settings: ISO 100, aperture f25, shutter speed 1/50 sec and 36 mm lens.
This photo was unplanned. When the sun came up behind the lighthouse, it reflected brightly in the windows, creating an interesting image. So the light you see in the windows is not caused by bulbs, but by the sun. This was taken at 7:47 a.m. Notice, the tiny island is still visible, but the center of attention has now shifted to the yellow windowpanes at the top of the lighthouse. The yellow color also complements the dark blue sky.
Camera settings: ISO 100, aperture f25, shutter speed 1/40 sec and 27mm lens.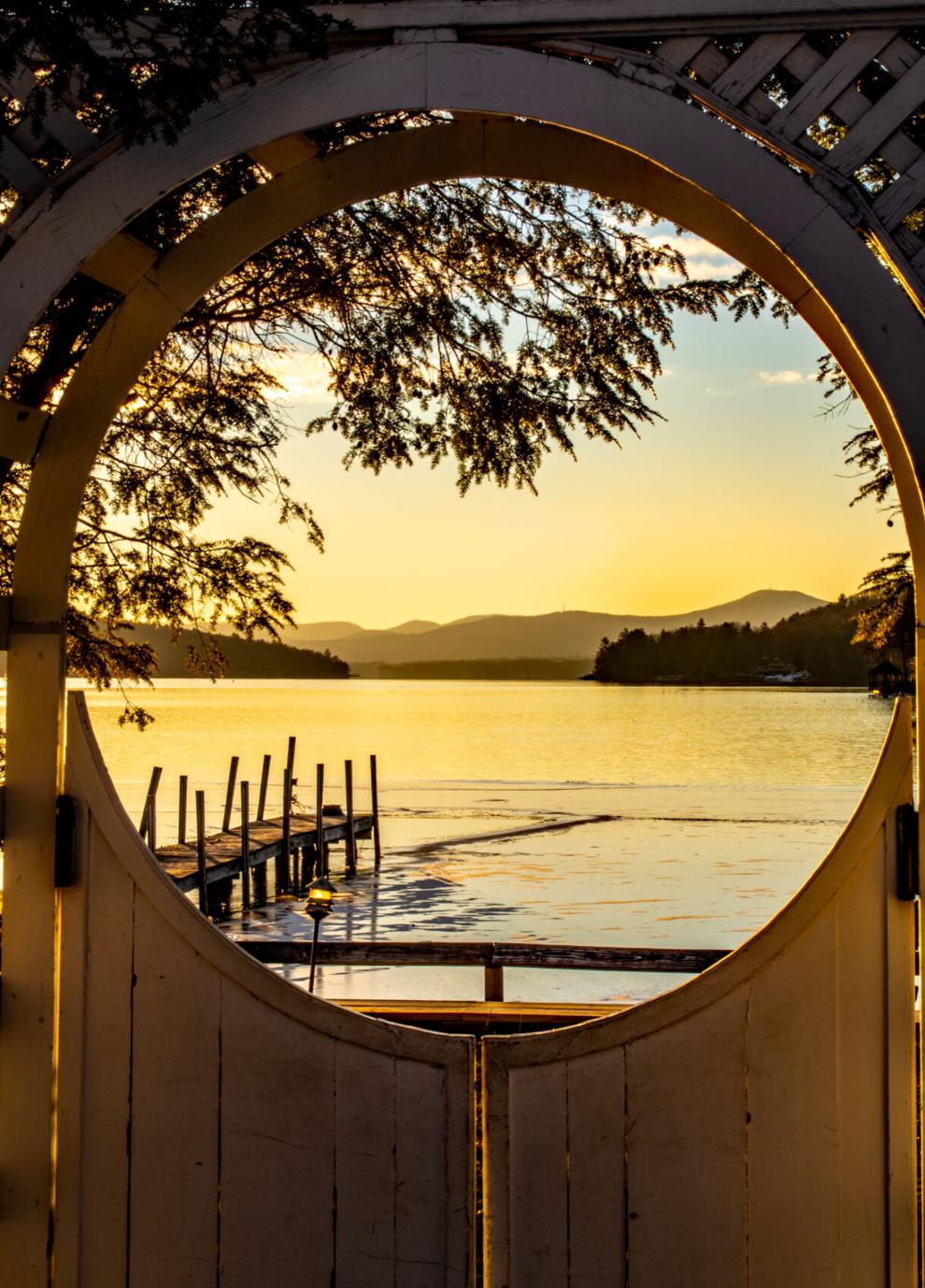 This photo, like the one of the lighthouse, was unplanned. When I returned to my car, I noticed an interesting image looking south east, through this gate. Notice how the pier leads the viewers' eye into the scene. At 7:53 a.m. the colors were now pastel yellows and light blues. The overall image gives a feeling of warmth and serenity.
Camera settings: ISO 100, aperture – f25, shutter speed 1/40 sec and 48mm lens.
I returned another day and photographed this same scene when the clouds and water were red instead of yellow. You can view that image on my website.
I hope you enjoyed reading the background of this photo shoot and the choices I made that resulted in these final images.
Thanks for reading my photography blog. Look for future articles covering topics like photographing New Hampshire waterfalls, photographing flowers, plants and trees, photographing covered bridges, camera types, how to use your digital camera, and discussion on Photoshop and other software.
I plan to offer a photography course, titled "Introduction to Digital Photography and How to Improve your Photographic Skills," sometime in late spring or early summer. Classes will be held at the Lakes Region Association Art Gallery at Tanger Outlets in Tilton. If you own, or are planning to purchase a digital camera, then you may be interested in this course. For more questions or comments, or more information, please contact me.
Ron Bowman is a New Hampshire photographer with 50 years experience photographing weddings, real estate and New England landscapes. He is a member of the Lakes Region Art Association and can be reached at rbphotonh@gmail.com. To view his work, visit the Lakes Region Art Association gallery at Tanger Outlets in Tilton, or rbphotonh.com.