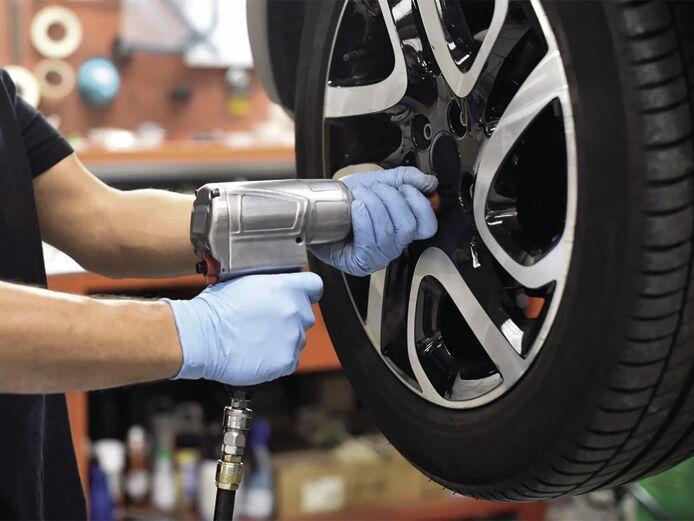 It's important, especially when there are environmental factors that contribute to the life of our vehicles, that we do our best to maintain them.
One of the most common and largest expenses to owning a vehicle is tires. A tire's longevity already differs between drivers, driving conditions, vehicles, and manufacturers; it doesn't need to shorten due to lack of maintenance, too.
Rotating your tires is the easiest maintenance tip to ignore, yet is most detrimental to maximizing the life of your tires and most use of your dollar. Maintaining even tread wear on all four tires guarantees prolonged life, improved gas mileage and better performance and handling.
Both front wheel drive vehicles and all wheel vehicles— which primarily operate in front wheel drive until driving conditions warrant all wheels to engage— drive and power your vehicle by providing power to the front axle, and in turn, the front wheels and tires. This results in faster and uneven tread wear between the front and rear tires. If ignored, uneven tread wear can result in driveline vibrations, misalignments, and costly repairs.
The best rule of thumb is to schedule a tire rotation with each conventional oil change or in between each synthetic oil change. Most vehicle manufacturers recommend that your tires be rotated every six months or 5,000 miles, and most tire manufacturers require that they be rotated every six months to maintain any tire warranty.
When technicians perform a tire rotation, it requires that they remove wheels and inspect the undercarriage of the vehicle and any components that may begin to show signs of wear.
When the technician has the opportunity to inspect the tires for any uneven tread wear, it allows them to warn you of tread wear pattern concerns. If they note that your tires are feathering, chopped, irregularly or excessively wearing on the inside or outside edges, or if it's been longer than a year since your last complimentary check, it might be time to make sure your vehicle is still within alignment specifications.
If you are unsure if your tires need to be rotated, trust your dealership and its technicians to inspect and rotate your tires to their best performing positions. Don't ignore the significance of this simple and money saving service.
Chris Irwin is vice president of Irwin Automotive Group in Laconia.
Irwin Automotive Group in Laconia sells Toyota, Scion, Ford, Lincoln, and Hyundai. Irwin operates a Quicklane Tire & Auto Center as well as Irwin's   Collision Center, and NHCarCredit.com. Contact us with any questions related to purchasing or servicing a vehicle, regardless of the make, model, or where it was purchased!