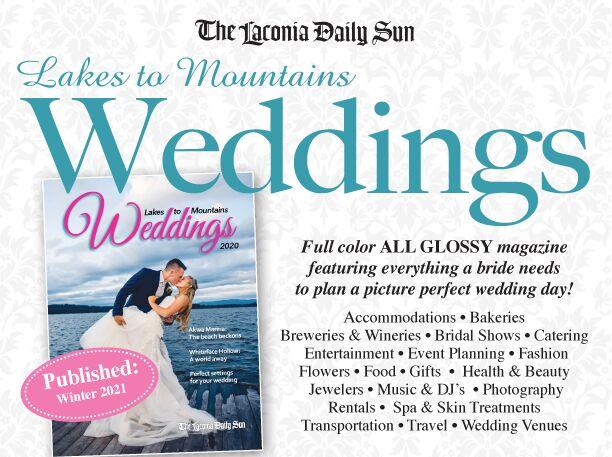 Reach brides and anyone planning a wedding in 2021 & 2022!
Distributed in key locations throughout the Lakes Region and the Mount Washington Valley by The Laconia Daily Sun and The Conway Daily Sun 
Full Page $625 (6.5" x 9")
Half Page $350 (6.5"x 4.4375" or 3.1875" x 9")
Quarter Page $225 (3.1875" x 4.4375")
Premium Placement
Inside Covers & Page 3 $1,100
Deadline: Tuesday January 19, 2021
Print and Digital Formats: 
Magazine will have a print edition and a digital E-Edition online to reach destination wedding brides. 
PDF files accepted, actual ad dimensions at a minimum of 300dpi. Please use CMYK and be sure all small type (12 point and smaller) is 100% black (on black plate only).
We welcome our advertisers to submit photos and editorial content for consideration.